Solar photovoltaic technology is one of the most widely used technologies to convert solar energy into electricity to fulfill energy requirements. This technology for solar energy conversion uses the photovoltaic effect which is the process of converting light, or photons, into electricity or voltage. This solar energy technology is rapidly becoming the go to method of converting solar energy to electricity for not just the residential population but also the commercial offices.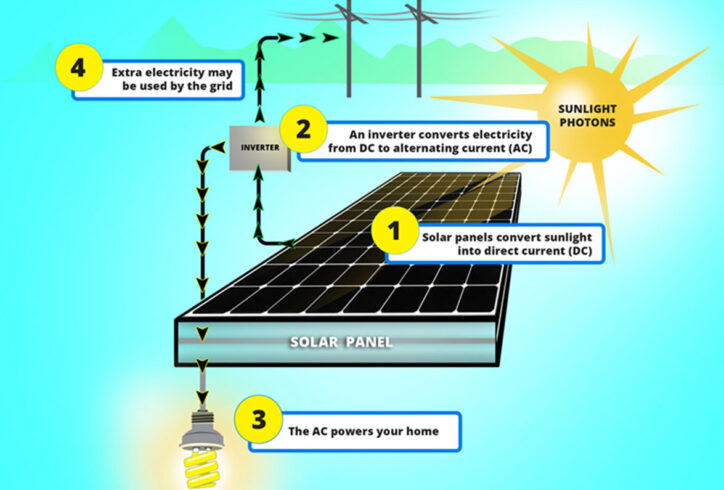 To explain it in simple terms Photovoltaic (PV) technologies  which are most commonly referred to as solar panels directly convert the sunlight into electricity. These solar panels are equipped with  solar cells that can  absorb energy from sunlight and convert it into electrical energy through semiconducting materials. The Electrons present inside the semiconductor materials are freed by the solar energy which it absorbs. This release of electrons can be induced to travel through an electrical circuit, powering electrical devices or sending electricity to the grid.
A single solar cell cannot produce more than 1 or 2 megawatt of electricity alone. These solar cells are connected with more solar cells in order to maximise output. When two or more solar cells are connected together, they form a solar panel or module. These modules can either be used individually to generate electricity, or if the power requirement is more, they can also be put together to form an array. One or more arrays is then connected to the electrical grid as part of a complete PV system. 
You must have seen the solar panels on rooftops, in fields, along roadsides. This technology of solar energy is the most commonly known and used technology out of the three which include: concentrating solar power technology and the solar heating and cooling technology 
UNDERSTANDING PV SOLAR CELLS: 

When light shines on a photovoltaic (PV) solar cell , there are three alternatives that may occur. That light may be reflected, absorbed, or passed right through the solar cell. The PV solar cell is made up of semiconductor material; in layman terms this material can conduct electricity more effectively than an insulator, like cloth, but not as well as a conductor, like metal. There are several kinds of semiconductor materials used in the Pv solar cell but the most commonly used Semiconductor material is silicon. (we discuss the different types of semiconductor material later in this blog.)
While we know that the solar cell directly converts solar energy to electricity by absorbing it, not many people know about the internal working of the solar cell, or about how exactly the solar energy magically changes into electricity inside the solar cell.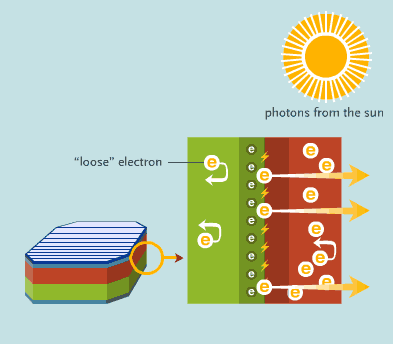 Solar cells contain a semiconductor material that conducts electricity only when energy is provided to it. In this case sunlight becomes the energy source to the semiconductor material.  When exposed to light, semiconductor material on the solar panel gets ionized by the photons, causing outer electrons to break free of their atomic bonds. In other words, the semiconductor, present inside the solar cell, absorbs the light's energy and transfers it to negatively charged particles called electrons.  The electrons are released inside the semiconductor where they flow  through it as electrical current. This is facilitated by the other layers inside the solar cell because they are designed to extract the current from the semiconductor. 
The current then flows through the conductive metal contacts on the solar cells.  You may recognise the metal contact as the grid-like lines on the solar cells. The electric current passes through the semiconductor to the metal contacts and then to an inverter. – and can then be used to power your home and the rest of the electric grid.
The function of the inverter is to convert the direct current (DC), which the flow of electrons produced,  into an alternating current (AC), which flows into the electric grid. It, then, eventually connects to the circuit that is your home's electrical system. So long as the sunlight continues to reach the solar panel and the circuit remains connected to it, electricity will continue to be generated powering your appliances. 
How efficiently a solar panel converts sunlight into electricity depends on the semiconductor material used inside the solar panel. In the lab, the ability of a solar panel to convert sunlight into electricity is called photovoltaic conversion efficiency.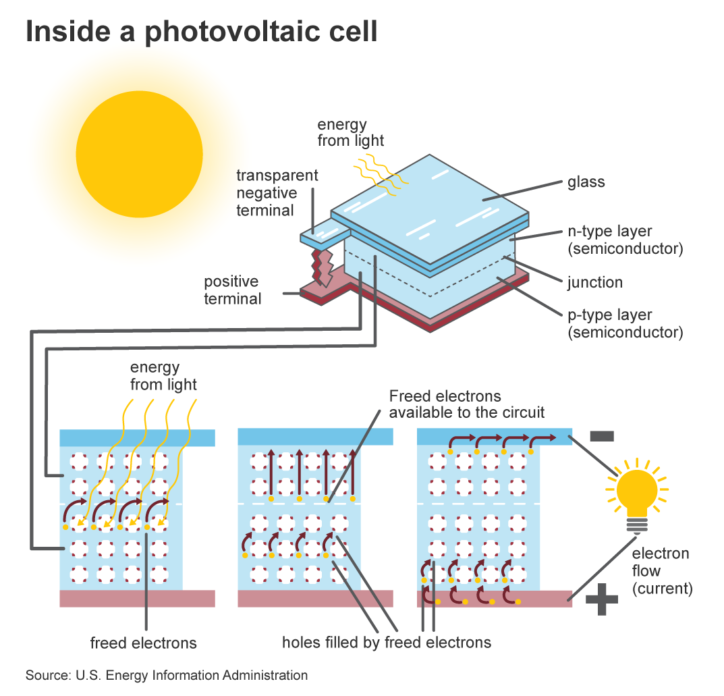 There are multiple factors that may affect the efficiency of a solar panel. environmental conditions like heat, dirt, and shade can reduce conversion efficiency.  But research in recent years is trying to tackle these problems by using innovative ideas. One such idea is the use of backsheets. Backsheets are placed on the solar panels to reduce their operating temperatures. They have also come up with new solar cell designs which can capture more light to increase the amount of electricity produced. 
Not to state the obvious, but if a solar cell captures more sunlight during the day hours, the energy produced by it also increases. Research is going on to come up with ways to boost the energy yield of the solar cells. Researchers and manufacturers are exploring  bifacial solar cells, which are double-sided to capture light on both sides of a silicon solar module. Interestingly, they capture the light reflected off the ground or the roof of the place where the solar panels are installed. So far there is not much to say about whether bifocals solar cells will be more effective in producing better energy yield. 
As we mentioned earlier, different kinds of semiconductor material can be used in the solar cell. Some of these materials are:
Silicon Solar Cells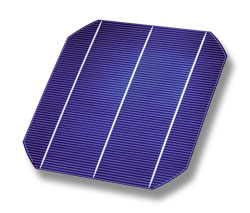 The solar cells used nowadays, majorly use silicon solar cells. These are highly economical and prove to be high on efficiency as well. They are usually assembled together to form a module, which is then installed on top of the roofs in houses and commercial setups. They can also be mounted on the ground. 
Thin-Film Solar Cells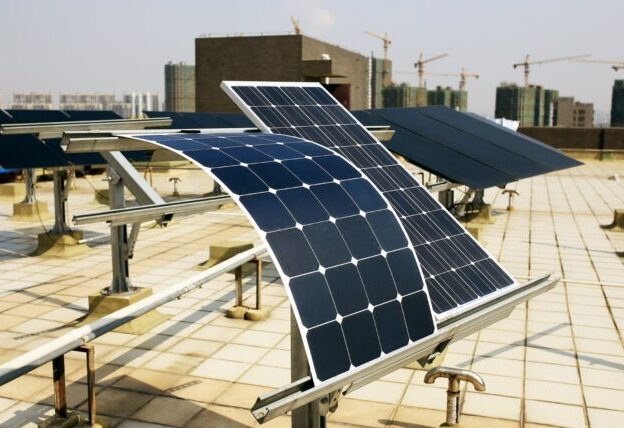 Thin film solar cells are made using thin layers of semiconductor materials like cadmium telluride or copper indium gallium dieseline. The cell layers are only a  few micrometers in thickness and are a very efficient photovoltaic technology available in the market today. 
Thin film solar cells are lightweight and very flexible, this increases their utility as it makes them highly potable. Thus this type of solar cells can be used in products like solar windows (that generate electricity from sun) as well as in soldier's backpacks. There are certain types of thin film solar cells that are manufactured in such a way that they require less energy and can very easily scale-up as compared to the silicon solar cells. 
III-V Solar Cells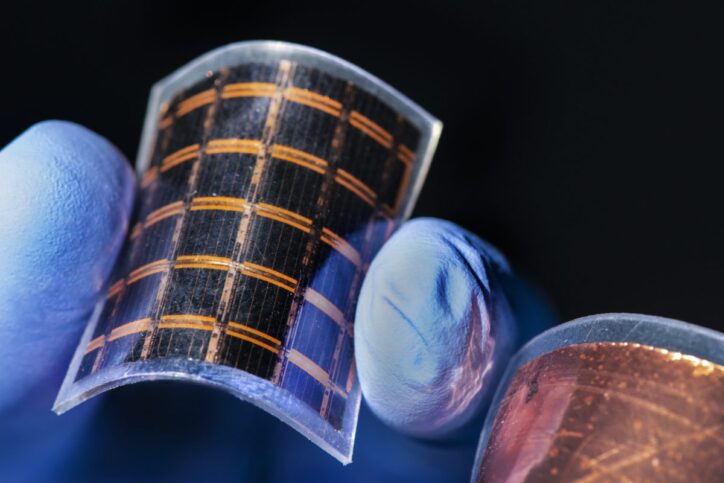 The III-V solar cells are named after the elements used in them from the periodic table. It is constructed using elements from the groups III of the periodic table (elements like Gallium and Indium) as well as from group V like arsenic and antimony. Even though these solar cells are considerably more expensive than silicon solar cells, they are also much more efficient than the silicon solar cells. They are able to produce much more electricity as compared to other kinds of solar cells. This is the reason why the III-V solar cells are used in satellites, unmanned aerial vehicles, and similar projects that require a high power to weight ratio. 
Next-Generation Solar Cells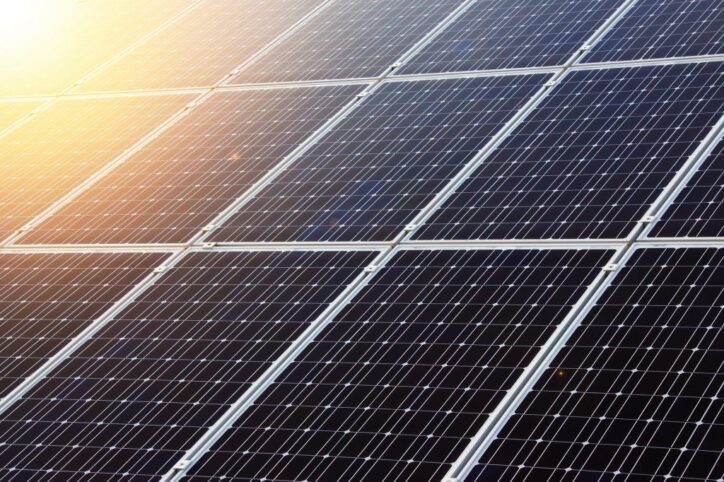 The next generation solar cells are made with organic materials, quantum dots and a hybrid of organic and inorganic material. These are still a work in progress, however, they are estimated to decrease the cost of solar energy and increase the ease of manufacturing the solar cells. 
PEROVSKITE PHOTOVOLTAICS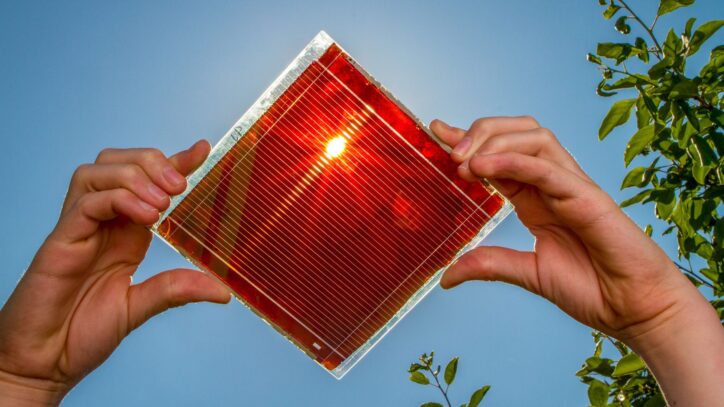 A kind of thin film solar cells, perovskite photovoltaics are named after their crystal structure. They are built using layers of different materials which are printed, coated or vacuum deposited on substrate (a support layer underlying the material). They are as efficient as crystalline silicon and are also easy to assemble. To be used commercially, the perovskite photovoltaic cells need to be stabilized enough so that they last 20 year outdoors. Research and development is underway to make them more durable and stable for large scale use. It is important to develop such technology which will allow using perovskite photovoltaics at an economical cost. 
ORGANIC PHOTOVOLTAICS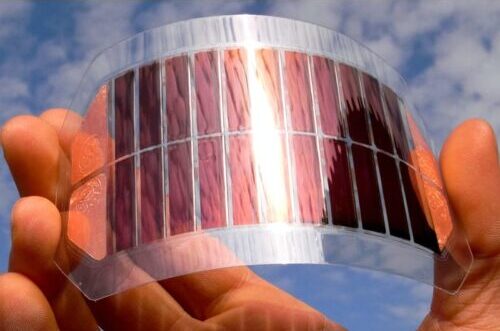 Organic photovoltaics are made using carbon-rich compounds, they can be used to enhance the efficiency of a particular function of the photovoltaic cell, like the bandgap, transparency, or color. In the present state the organic PV cells are only half as efficient as compared to the silicon cells. However, if produced on the higher volume that can prove to be less expensive to produce. Another benefit that they beget is that they can be applied to a number of supporting materials increasing its applicability and utility manifold. 
QUANTUM DOTS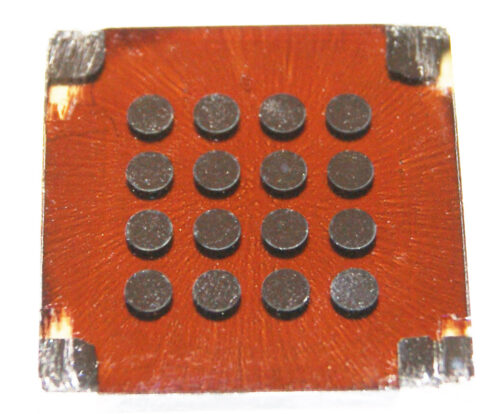 Quantum dots are semiconductor materials which are a few nanometers wide.  This is a novel technology to conduct electricity from solar heat. However, because it is very tedious to create electrical connections between them, they are currently not very efficient. One can deposit quantum dots onto a substrate using techniques used to print newspapers like roll to roll printers, spin coat method, or a spray.  
There are a number of quantum dot variations present in the market, they vary according to the sizes as well as the bandgap. This gives an extra edge to the quantum dot solar cells in that they can capture the light which is otherwise difficult for the other semiconductors to capture. 
MULTIJUNCTION PHOTOVOLTAICS
A multijunction photovoltaic cell is made by layering multiple semiconductors. This helps in improving the pv cell efficiency. They are made by stacking different semiconductor materials on top of one another. Each layer of semiconductor material has a different band gap that allows each layer to absorb a different part of the solar spectrum. Thus maximizing the use of sunlight.to put it simply, the solar radiation or heat that is not captured by the first layer of material is captured by the next layer and so on. This means that no solar energy is wasted, thus reaching record efficiency levels. 
Multijunction solar cells also come in a variety of forms like the tandem solar cell (a solar cell that consists two band gaps instead of multiple ones) and the multijunction III-V solar cells (the solar cell which is made up of semiconductors from column III and V in the periodic table)
Even though the multijunction solar cells are 45% more efficient than other types of solar cells, the one drawback that prevents large scale usage is the fact that they are very costly and difficult to manufacture. Currently they are used only for space exploration. The military also uses multijunction solar cells in drones. 
CONCENTRATION PHOTOVOLTAICS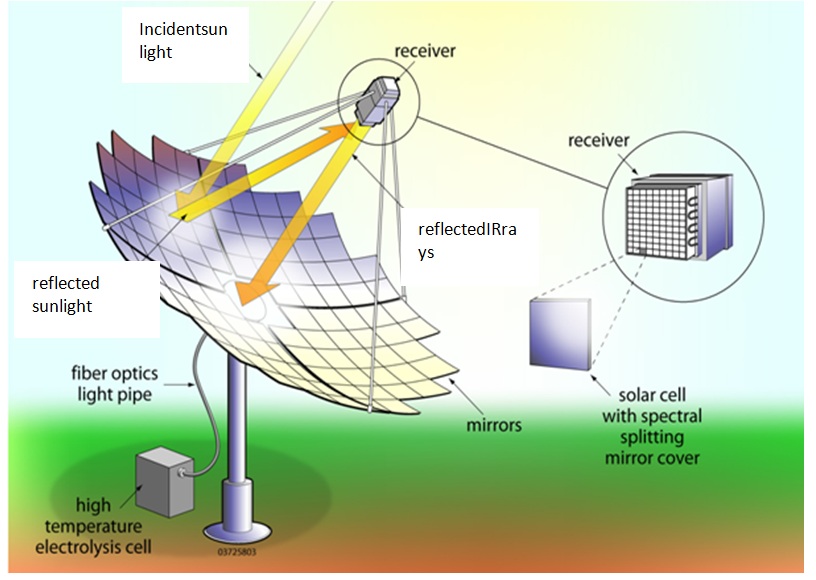 Concentration photovoltaic cells focus the sunlight using mirrors. They require less PV material since they focus sunlight into small areas. This makes the PV material more efficient. As the light is concentrated, it makes it possible for the CPV solar cells and modules to obtain much higher efficiency. The drawback for this technology is that it requires more expensive material than silicon solar cells. Apart from this the cells also require expensive manufacturing techniques and the ability to  track the movement of the sun. This makes the overall cost of the setup not so economical as compared to a silicon solar panel setup. 
HISTORY OF SOLAR ENERGY: 
The origin of this technology can be traced back to the scientists at Bell Laboratories. Although the PV effect was observed as early as 1839 by Alexandre Edmund Becquerel, and was the subject of scientific inquiry through the early twentieth century. The scientists at Bell Laboratories were the first ones to create a solar cell made from silicon, which transmitted electric current upon being exposed to sunlight.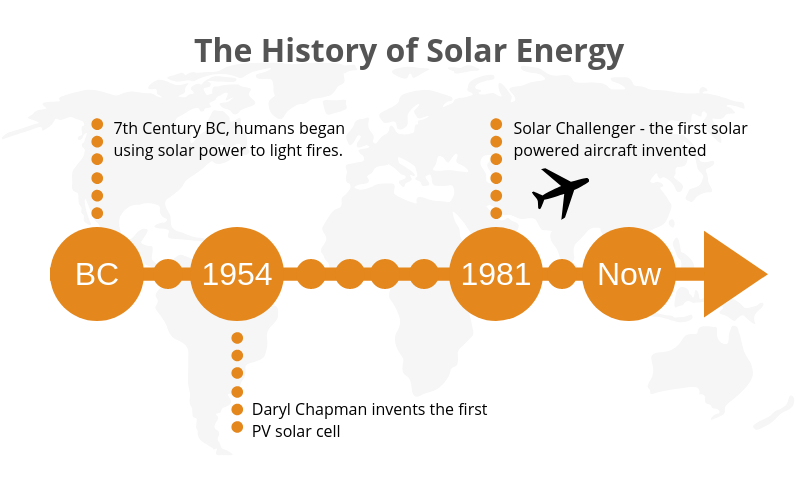 It was during the energy crisis of the 1970s that it was realised how instrumental solar energy would be in solving the problems related to energy and power source. During this time solar cells were used to produce electricity at homes and businesses. However, due to the extremely hefty pricing, the usage of solar energy was limited. Moreover, the prohibitive prices made the large-scale use of solar energy impractical and completely uneconomical for people.
In order to make large-scale use of solar energy more economical for the people, Industry developments and researches were undertaken in the years that followed.  Eventually Pv devices and solar cells were developed that would make it easier and economical for people to use solar energy at home, in offices as well as in transportation. 
Thereafter, the solar cells started being used to power all kinds of things starting from space satellites to smaller objects like watches and calculators. In the contemporary world, especially in the USA, solar energy is being used to a large extent to meet power and energy needs. And photovoltaic solar panels, because of their high efficiency and effective mechanism, are being opted for by a lot of people. 
There are a number of options for solar cells available in the market today. As we mentioned earlier as well, the type of solar cells used most are either crystalline silicon or thin-film semiconductor material. Silicon cells are preferred because they are easier to install and cost less as compared to the other kinds, even though the efficiency for silicon is lower than a number of alternatives present. No matter which type of solar pv cell you use, the important thing is that solar energy is one of the most efficient alternative sources of energy. 
 In fact there are a number of solar companies in the USA who offer very competitive and reasonable prices for installation of solar panels for home, solar panels for business establishments, and solar panels for farms.