A solar energy technician is responsible for installing, troubleshooting, and maintaining solar energy systems. They must have knowledge of solar panel technology, installation procedures, electrical wiring, and safe use of power tools.
They should also have knowledge of the laws and regulations governing solar energy in their area. In order to be a successful solar energy technician, you must have a working knowledge of computers and software. You must also have excellent problem-solving skills and be able to work independently.
Who are solar energy technician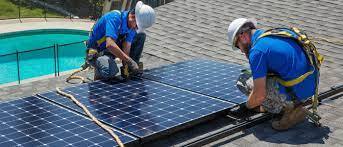 Solar installers are professional companies that install and maintain solar panels for businesses, residential buildings, and individual homeowners. They also could help install other parts of solar energy like pumps, fans, and collectors.
These kinds of different jobs generally require some knowledge about construction methods and regulations as well as being able to learn about codes for solar panels in the area where you live.
What does a solar energy technician do?
Solar energy technicians spend their days working on solar panels in a variety of applications. Responsibilities might include:
Solar engineers are responsible for the installation, maintenance, and repair of solar energy systems.
A solar technician will inspect installations for wear and tear, make repairs as needed, and recommend additions or alterations to the system.
Solar technicians must be knowledgeable in all aspects of solar systems and have a strong technical understanding to carry out their work effectively.
Solar technicians are in high demand, so prepare yourself for a career in this growing industry!
Helping build a solar farm
Cutting, fitting, and connecting multiple panels
Staying up to date on local, state, and federal codes to install and maintain panels according to regulations
Reasons to Start Solar Technician Training
Demand in the Solar Industry
In a world in constant search for alternative energy sources, because it's greener, the demand for solar science technicians has grown. Even in today's green-conscious world, it is difficult to find a solar PV installer, and the demand is growing.
By September 2012, solar energy jobs had grown by 13.2%, accounting for almost 14,000 new jobs in solar. Job opportunities in the field are expected to increase.
Professional Technical Training
Technical training programs can help you learn the skills you need to pass certification exams fast. This allows you to move into the workforce faster without incurring debt for your education.
The courses are specific to the career you want to enter without taking general education courses that would not benefit your career. Technical training programs also emphasize hands-on learning so you gain the skills firsthand before even starting your career.
Growing Client Base
Research shows that solar energy has enormous potential because it is a renewable source of energy. It will take time for the market to grow, though. There are so few people and businesses using solar energy that it has untapped potential with an almost endless supply of consumers to be found.
In 2011, 9% of US energy consumption came from renewable sources; of that 9%, only 2% was generated by pv/solar power. Businesses are constantly looking for ways to save money and be eco-friendly, and both can be accomplished through the use of solar energy. Many major corporations, including Walmart and Costco, are turning to solar power and other renewable energies to power their stores.
Energy & Environmental Conservation
The work of a solar technician can make a huge difference in the lives of their customers or in breathing on the planet. Studies show that carbon emissions are bad for both humans and the earth, and decreasing them is part of making things better for everyone.
The solar technician helps their customers establish an alternative energy source, which will save them money in the long run, help them become more energy-independent, and reduce their carbon footprint. The benefits to a positive impact on the environment are phenomenal as they reduce the need for electric systems and reduce the need for electricity in general.
What you need to become a solar technician
There are a variety of skills that can be helpful in developing a career as a solar energy technician, including: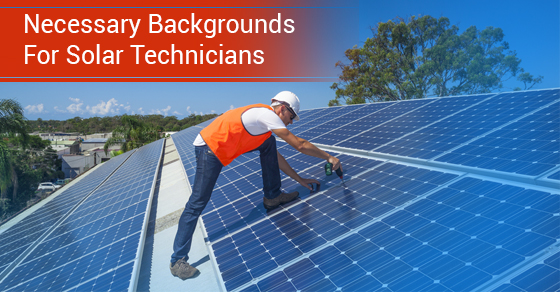 An Understanding of Electrical Systems:
A solar installation is its own electric power plant. Electricity is a renewable resource that can be used back and forth – these power plants provide clean energy services and make them more affordable. Solar installation technicians are increasingly needed in construction projects that aim to increase their green footprint. Such projects require knowledge of electrical diagrams to create the project, as well as a cool head under pressure situations requiring extreme precision.
It seems that many solar installation technician training programs focus on this topic. Students benefit from a controlled environment before working in the field, and they have the opportunity to work under experts with years of experience who can show them some of the common pitfalls in solar.
Solar panel installation is difficult and requires physical work. Managers typically don't do many tasks and they spend much more time on management than physical labor. However, if you are physically fit it can still be helpful to oversee implementation activities, including surveying roofs for optimal solar panel placement.
Solar energy technicians learn the skills that allow them to work on different types of roofs and wire them to electrical grids.
As a solar energy technician, you'll need at least some knowledge of construction tools, like roof types and electrical grids. You can usually learn these skills during on-the-job training or an apprenticeship.
Solar installations require in-depth attention to detail. Solar installations can run for twenty-five-plus years, which means the construction must be perfect to produce the intended financial gains. If the panels are installed just a few degrees east or west of south or are tilted too much forward or backward, their lifespan may be negatively impacted.
A smart solar installation technician realizes it is important to get the job done right, but not at all costs–after all, solar installation technicians who make too many errors will find themselves incapable of succeeding in the field for long.
Great Communication Skills:
Solar installations are popping up all over the country, which creates opportunities for many solar installation technicians across the country. Additionally, most of these jobs are working on multiple projects at once. To be an effective installer, solar installation technicians must be expert communicators by balancing communication between many parties simultaneously.
People who are part of these parties are sometimes bosses, coworkers, suppliers, site owners, and solar customers. The balance of effective communication is often what lands people in the best career advancements.
A Willingness to Solve Uncommon Issues:
There are challenges in building a solar panel array. To make sure you stay within codes and maximize production, always be prepared for anything and think of some unusual obstacles that can come up during the installation process. The best technician is able to solve any problems efficiently.
They must troubleshoot their solar array if it's not working properly. Knowing how the panels are built and the different components will help them to identify what is wrong. Solar arrays may be faulty too, so it's up to the solar installation technician to recognize when something is wrong and find a solution for the array.
STEM (science, engineering, and technology) knowledge can help you in a variety of ways. Math is a big part of the job because it is needed to calculate the right number of panels for an area and know how much energy they can output. Understanding electrical systems is also an important skill to have, since you may need to help set up wires to power your company's solar panels.
Codes, such as local and state codes and federal codes, are important for your work so you have to be sure to know about them. You can learn about those codes when you become a solar installer or someone who installs solar panels.
How to become a solar energy technician
There are different paths to becoming a solar technician. It can be difficult to become one, as electronics today are becoming more sophisticated and equipment is more complex.
For these reasons, gaining entry-level positions means having a lot of expertise. Below, aspiring solar technicians can find the most common steps toward this profession.
 Get your high school diploma or GED:
How to be a good solar installer is important. By the time students are ready for college, they should have taken shop classes and learned to work with their hands. They should also take science, math, computers, and electronics classes.
Students are encouraged to maintain a minimum GPA of 3.0 and get involved in extracurricular activities. This includes physical education classes, sports clubs, and teams, volunteering, internships, or part-time jobs with solar or construction companies.
Obtain training or education:
You may be able to continue your on-the-job experience after graduating from high school where you can find a company willing to hire you without any further work experience.
Training can vary depending on the goal of the student. Short-term training normally provides a set number of hours for skill development and job safety instruction, however, classes also focus on professional development as well which can span anywhere from one month to two years.
Work on advanced education:
If you want to advance in that field, it might help if you went for a bachelor's degree. This can be achieved by either going to a college or going about it in another way. There are many different degrees that can help you advance your career.
There are bachelor's degrees that go into renewable energy, solar technology, systems design, and alternative energy. Plus, the Electronic Technicians Association, the U.S Board of Certified Energy Practitioners, and Roof Integrated Solar Energy all offer optional certifications that may make your career easier to achieve.
Licensing differs from certification. Most states require contractors (i.e., self-employed solar technicians) to be licensed and each state and municipality has its requirements and fees for obtaining licenses. Some states require a separate permit to do solar work, called a solar license tariff.
The Interstate Renewable Energy Council has a map of U.S. solar licensing conditions. They encourage entrepreneurs to review the licensing requirements in their home state so they can avoid working outside of what they're permitted to do.
How much do solar energy technicians make?
The range of salaries for solar technicians depends on many factors. The solar installation pays $27 per hour, and more experienced employees make more money than less experienced ones.
The Bureau of Labor Statistics reported that in the May 2019 data from 11,080 solar photovoltaic installers across the U.S. earned an average annual salary of $46,850 with the following percentile percentages:
10th percentile: $31,600
25th percentile: $36,310
50th percentile (median): $44,890
75th percentile: $55,680
90th percentile: $63,880
Highest Paying Cities for Solar Technician Jobs
| Job Title | Annual Salary | Monthly Pay | Weekly Pay | Hourly Wage |
| --- | --- | --- | --- | --- |
| Senior Solar Engineer | $98,658 | $8,221 | $1,897 | $47.43 |
| Electrical Engineer Solar | $97,938 | $8,161 | $1,883 | $47.09 |
| Solar Sales Consultant | $97,013 | $8,084 | $1,865 | $46.64 |
| Solar Energy Systems Engineer | $89,168 | $7,430 | $1,714 | $42.87 |
| Solar Engineer | $88,745 | $7,395 | $1,706 | $42.67 |